Pre-Press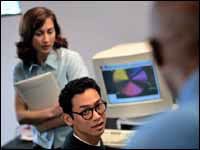 We maintain a state-of-the-art pre-press department using the latest software available on both Mac and PC platforms. We accept your files on a variety of media, as well as via internet, and e-mail.
Pre-press has the responsibility of preparing customer files for reproduction. After accepting files, pre-press will run preflighting techniques to ensure files are fit for a commercial printing environment.
The next step is to produce a proof if necessary. A proof file is prepared either electonically or hardcopy and sent to you for approval.
After receiving approval, prepress then creates any necessary tooling and forwards the project to the appropriate department.